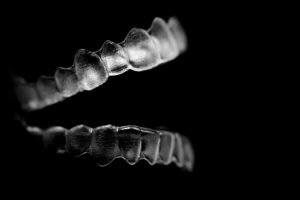 Choosing the teeth-straightening treatment that's perfect for you can sometimes be a daunting task. It usually comes down to the main two choices, which we happen to offer – metal braces and Invisalign. There are a few factors that play into each treatment, as some cases won't be able to be solved by Invisalign alone. What you've probably heard is that Invisalign is state-of-the-art and can invisibly straighten people's teeth. There's no lying – it's all true. However, while one patient may jump at the chance for Invisalign treatment, another may opt for traditional treatment involving metal braces. There's no right or wrong way to straighten your teeth because the job will get done eventually. Outlying the benefits of each can help you decide which treatment option is the best for your particular dental situation. Our office in Prince Albert, SK enjoys giving your patients choices when it comes to beautifying their smiles. It's orthodontics Prince Albert residents can use to their advantage.
So, what's it going to be – Invisalign or metal braces?

Good Ol' Metal Braces, Prince Albert
If you've been living under a rock since forever, you probably wouldn't know that metal braces are and always have been the traditional choice for teeth-straightening treatment. We're guessing you haven't been living under one, so chances are you've heard of metal braces. Here's what you should know about them – pain is a major part of treatment. Sorry, it just is. If you think about it, it makes sense. Your teeth are actively being moved to their rightful positions, so naturally there is going to be soreness and other related pain issues. You'll need to hunker down and get comfortable with them, too. Treatment time averages five years. Plus, you'll have to deal with metal in your mouth and prickly wires that sometimes come loose.
None of these side-effects are impossible to deal with. You won't be in excruciating pain, just some slight discomfort. Metal braces are still applied for a reason – they get the job done. There are so many smiles that have been beautified by metal braces that we've lost count!
New-Age Treatment: Invisalign, Prince Albert
While similar to metal braces, Invisalign is different in many aspects. First, the aligners are made of clear plastic, so nobody will ever know you're actively straightening your teeth. Second, you can remove the aligners anytime you'd like, unlike with metal braces. This is great because you won't have to worry about food particles sticking to the aligners.
Did we mention that treatment time is slashed in half? Sometimes, treatment can last for as few as six months, depending on the severity of the misalignment. It's new-age treatment that can give you a straight smile in half the time and do it comfortably. It's no wonder why more and more patients are choosing Invisalign.
Don't Choose Alone – Schedule a Consultation
All misalignment issues are corrected according to the severity of misalignment issues. Invisalign may not be right for you, but deciphering that information is what our dental team will do. Our goal is to get your teeth looking beautiful, and a straight smile helps with that. We gladly serve everyone in the Prince Albert, SK area, including Cecil, Davis, Honeymoon, Kalyna, Crutwell and beyond.