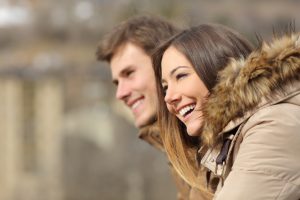 The holiday season is sneaking closer and closer — and just like every year, we know you want to look your absolute best this season. Did you know that teeth whitening is one of the easiest and most affordable cosmetic treatments you can choose? If a daily coffee habit or a love of dark chocolate has taken its toll on the shade of your smile, do something to improve your look before the holiday season hits. Choose a professional-strength teeth whitening treatment in Prince Albert.
Let Your Smile Dazzle With Prince Albert Teeth Whitening
You've got options when it comes to teeth whitening treatments. While we know it can be tempting to pick up an over-the-counter treatment and wish for the best, but we advise you to choose a professional treatment — we promise it's the best choice for your health and safety. Picking a teeth whitening treatment from your trusted dentist's office is also the only way to achieve the most dramatic results.
When you trust Dr. Janzen and Dr. Gogolinski with your teeth whitening process, you're putting your unique teeth in the hands of professionals who know what's best for you and your smile. The benefits are obvious: over-the-counter options aren't as strong as what your dentist has to offer, and their one-size-fits-all method just can't give you the best results possible. And we know when you're spending time and money on a teeth whitening treatment, you want one that really works.
The at-home teeth whitening treatments we offer at our Prince Albert office are custom-fit to your unique mouth. In addition to your special trays, you'll receive a powerful, professional-strength whitening gel. To achieve amazing, brighter results, you'll fill your trays with the special gel and wear them at home for 30 minutes a day. The typical treatment lasts about two weeks — and once it's complete, the results are in: a more beautiful, dazzling-white smile we know you'll be so excited to show off.
Schedule Your Appointment in Prince Albert Today
If you're interested in improving the aesthetics of your smile with a powerful at-home whitening treatment through our Prince Albert dental office, don't wait to schedule your appointment to learn more. Remember that the holiday season is almost upon us! Call us today. Dr. Janzen and Dr. Gogolinski are happy to serve all our  neighbors in the Prince Albert, SK area, including Cecil, Davis, Honeymoon, Kalyna, Crutwell and beyond.