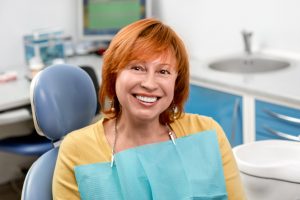 Missing one or more teeth? Dr. Janzen and Dr. Gogolinski are happy you're choosing tooth replacement in Prince Albert. Gaps in a smile affect your ability to eat, speak and smile like you're used to — not to mention the toll missing teeth can take on your self-confidence. If you're considering dentures in Prince Albert for your tooth replacement, you know you've got options. Keep reading to learn more about your choices and how to make the right decision for your unique mouth!
Dentures Give Prince Albert Neighbors Their Smiles Back
There are two types of dentures: full or partial, and both of these can be implant-supported, or not. What does that all mean, exactly? Let's take a closer look. Should questions still remain after, please don't hesitate to contact the office of Dr. Janzen and Dr. Gogolinski for more information.
Partial Dentures
Partial dentures replace several missing teeth, whether in a row or in different parts of the mouth. They're teeth attached to a gum colored base that fits in your mouth like a puzzle piece. When not supported by dental implants, partials are usually clipped in or secured with brackets, and are easily removed for regular cleaning.
Full Dentures
Patients missing a whole row of teeth on the top or bottom can benefit from full dentures, which replace many teeth at once. Also attached to a gum colored base, non-implant supported full dentures are secured in the mouth either by suction or with an over-the-counter adhesive.
Whether they're partial or full, non-implant supported dentures are a more economical, less time-consuming option in tooth replacement when compared to dental implants.
Implant-Supported Dentures Offer a More Stable Replacement
While they are more costly and take more time to fully heal (around six months, in fact), there's no doubt about the fact that dental implants provide a better tooth replacement overall. That's because they replace the tooth's root, too, which promotes better oral health and increased satisfaction on your end.
Benefits of choosing implant-supported dentures include the following:
Osseointegration (implant-jawbone integration) promotes good oral health, meaning your dentures will never need to be refitted due to jawbone degeneration.

Implant-supported dentures restore your ability to eat, speak and chew just like you're used to.

When cared for properly, teeth restored with dental implants can easily last for the wearer's lifetime.
Learn More From The Trusted Professionals Today
If you're committed to completing your smile with Prince Albert dentures in 2016, please contact the office of Dr. Janzen and Dr. Gogolinski to book your January appointment. Spots are quickly filling up, so don't delay — contact us today!