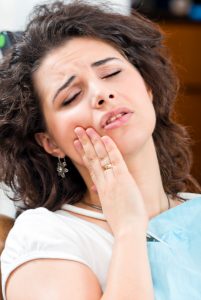 Dental emergencies are often painful and frightening all at the same time! Patients trust Dr. Jerry Janzen and Dr. Jenna Gogolinski to be their emergency dentist in Prince Albert because we make every effort to provide same-day reliable dental care. With over thirty years of combined experience, this dental team has the knowledge and skills to guide you through any emergency situation. Here are a few more reasons why Prince Albert chooses Dr. Janzen and Dr. Gogolinski for emergency dentistry.
Dental Accidents or Trauma
If you experience a dental injury, accident or trauma to your mouth contact our office right away, as it can mean the difference between saving and losing your tooth. If your tooth gets dislodged or knocked out, do your best to save it and bring it in to us as soon as possible. If your tooth gets chipped or broken, also try to save any pieces and contact us right away.
If you experience an injury to your gum tissue, or other soft tissue such as your cheeks or lips, first try to contain the bleeding with a cold compress or warm saltwater rinses, if possible.
Dental Pain
If you have an infection, you may begin to experience sensitivity to hot, cold or sweet foods and beverages. You may also have a constant dull toothache that doesn't subside. It's important to understand that if you have an infection, your pain won't go away on its own, in fact, it will get worse and put your tooth at risk for further damage. This is the time to call your Prince Albert dentist right away!
The quicker we can diagnose your pain the quicker we'll be able to provide you with relief. Being proactive and calling right away can also mean the difference between saving your tooth and having an extraction.
The most important things to remember if you're experiencing a dental emergency or pain are not to panic, and to contact us right away. We offer convenient office hours and we'll make every effort to see you the same day, as we understand how painful and serious dental emergencies are. Our doctors are experienced, caring and gentle so you'll be in good hands no matter what type of situation you encounter. We look forward to being your partners in optimum oral health!