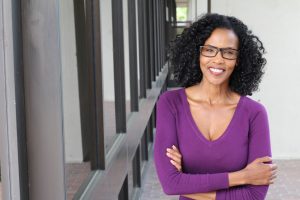 Your smile is a powerful tool! It can give you the confidence to achieve great things. What do your teeth say about you? Are there aspects of your smile you'd like to improve? If so, cosmetic dentistry offers numerous options for repairing and enhancing your teeth, and your cosmetic dentists in Prince Albert can help!
Teeth Whitening
Sometimes your smile may just need a quick update. The quickest and easiest way to do this is to whiten your teeth. Dr. Jerry Janzen and Dr. Jenna Gogolinski offer a convenient and effective at-home whitening system that allows you the freedom to whiten your teeth based on your own schedule.
We'll start by creating custom fit trays based on impressions we take of your teeth. Our doctors will determine the right strength whitening gel to meet your needs. We'll ensure that your trays fit properly, and give you a crash course on properly applying the whitening gel, and you'll be off to a whiter, more beautiful smile in no time.
Invisalign
For patients living with crooked or misaligned teeth, it takes a toll on their confidence. What if you could align your smile without anyone noticing, and without having to wear bulky metal braces? Invisalign in Prince Albert utilizes clear plastic aligners to apply gentle pressure and gradually straighten teeth. The aligners are comfortable to wear, easy to get used to, and virtually invisible, making them a great option for patients who want to align their teeth with discretion.
Porcelain Veneers
A dental veneer is best described as a thin layer of porcelain that is directly bonded to your tooth. Veneers add strength and beauty to your smile and they're ideal for repairing a number of dental issues such as:
Spacing in between teeth
Misaligned teeth
Sizing discrepancies
Stains and discoloration
Misshapen teeth
Wear, small fractures, and chipping
Veneers can be used to repair one or two teeth, but are best utilized to enhance an entire smile. They're custom shaded to naturally complement your smile, and they're stain resistant, so they don't discolor at the rate your natural tooth would.
If you'd like to upgrade or enhance your smile, we'd love to discuss the possibilities with you! Contact our office today to learn more about cosmetic dentistry.