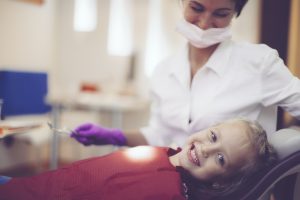 USA Today reported that kid's tooth decay has hit "epidemic proportions." In the article, a study was highlighted by the Centers for Disease Control and Prevention (CDC). In that study, researchers found that nearly half of children ages 2 to 11 have already had cavities in their baby teeth. Even worse, 21% of those children continued to have cavities in their permanent teeth. After reviewing the study, the article came to these main points:
Kids frequently exposed to sugary foods and drinks are at a higher risk of early tooth decay.
Children should visit their dentist at least by the time they're turned 1.
It's important to instill good oral hygiene habits early in a child's life.
Your children's dentist in Prince Albert realizes tooth decay and developing cavities are one of the highest risk dental problems for your little ones. Let's explore some ways you can be proactive in preventing these oral health issues.
Brush and Floss
The most important routine you can establish is making sure your children brush their teeth at least twice a day (two minutes at a time) and floss daily. Depending on the age, most younger children need adult supervision while practicing their dental routine. If your child is young, you will probably need to intervene when learning how to brush and floss properly. This will ensure that food does not stick between the teeth causing cavities to develop. We recommend that children 2 years and older can start using toothpaste infused with fluoride.
Healthy Diet
Great nutrition goes a long way in helping to protect teeth from cavities not only for adults, but especially for your children. Along with avoiding sweets and sugary drinks, children should consume a diet that is filled with the right nutrients and vitamins. A healthy diet gives children the proper elements to build healthy teeth.
Dental Sealants
Dental sealants are a dental resin that bonds to the surfaces of teeth to protect smiles from decay. When sealing a tooth, the grooves of your teeth are filled and the tooth surface becomes smoother. This makes your child's teeth less likely to build up plaque and food in the intricate crevices of their teeth. Other benefits of sealants include:
Sealants protect the grooves of the teeth from food particles.
Dental sealants are easy to apply, only taking a few minutes to seal each tooth.
Sealants hold up well under the force of normal chewing and can last several years.
Sealants are affordable and less invasive to prevent cavities.
Sealants are white or clear in color, making them virtually invisible amongst your child's natural smile.
Visit Your Dentist in Prince Albert Semiannually
We can't stress how important it is to take your children to the dentist every 6 months. We recommend seeing a dentist by the first birthday. Starting checkups early will help your child become more familiar our office and create a personal, comfortable relationship with either Dr. Janzen or Dr. Gogolinski. The dentist will be able to detect any areas of concern regarding cavities or decay and offer the least invasive option to avoid tooth decay. Contact us today to schedule the next available appointment.