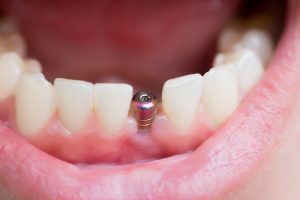 If you have lost one or more teeth, you need to locate an expert restorative dentist ASAP. Maybe you're wondering, "who's the dentist near me for quality dental implants?" We know the answer: find the excellent care you're looking for from Dr. Jerry Janzen and Dr. Jenna Gogolinski! Keep reading to learn about your options in restorative dentistry and why dental implants can't be beat.
Restoring Smiles for Better Lives
Tooth loss can occur for a number of reasons, from genetics to poor dental hygiene or a traumatic accident. However it happens, it must be corrected, and quickly. Missing teeth lead to a number of issues with your oral and overall health. Just one lost tooth can increase your risk of sustaining even further tooth loss — unless it's restored promptly with an implant solution (more on that below). Gaps in the smile may also make it more difficult to eat a balanced, nutritious diet. Speech may be affected, too.
There's no doubt that the effects of tooth loss are significant. But your dentist in Prince Albert provides high quality restorative solutions. Crowns and bridges take the place of one, two, or several consecutively missing teeth. A partial denture fills larger gaps in the smile by fitting in with the natural teeth like a missing puzzle piece. Full dentures replace all the missing teeth in the upper or lower jaw.
Each one of our restorative treatments helps patients find the confidence that comes with a complete smile once again. For eligible candidates, though, there's really no better choice than dental implants.
Multiple Benefits of Dental Implants
Dental implants are the only truly comprehensive solution currently available for missing teeth. They take the place of your tooth's root as well as the visible crown, a whole-tooth replacement that provides your jaw with the stimulation it needs to thrive. Non implant-retained options result in the degeneration and shrinking of the jaw. That's because without tooth roots, the body senses those important, jaw-nourishing nutrients should be sent elsewhere.
Recent studies show that dental implants have a success rate of 98% in eligible candidates. And when cared for properly, they can last for a lifetime! That makes implants the best investment you can make for your health — and your wallet. Other options may need to be replaced as often as every 5 to 7 years (as is the case with traditional dentures).
With dental implants, you can enjoy all these benefits:
A replacement that mimics your natural tooth structure

No need for creams or adhesives to secure a full denture

Better oral health

Eat what you like

Speak without difficulty

Dental implants can fix previous alignment issues

The best financial investment
Dental implants are completed over the course of several months. Many adult patients are eligible candidates — but the only way to know for sure whether or not you can undergo the procedure is to schedule an appointment with your implant dentist!
Are You Ready to Complete Your Smile?
If you're dealing with one, two, or a full row of missing teeth, you need to find a solution with restorative dentistry in Prince Albert quickly. We're ready to take the case! Please don't hesitate to request an appointment with Dr. Janzen or Dr. Gogolinski today.