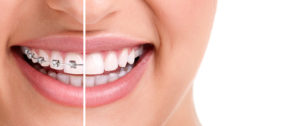 Are you ready to improve the alignment of your gapped, crowded, or otherwise misaligned teeth? If so, you've got options when it comes to orthodontics in Prince Albert. Traditional braces and Invisalign are two popular treatments — but which one is right for you? Let's take a look at the most notable differences between these choices to help you make the best decision for your smile.
Maintenance
Invisalign uses a series of clear, removable aligners that gradually realign your bite by placing pressure on different areas of the teeth throughout the treatment. Traditional braces are fixed onto the teeth and can make proper oral hygiene difficult for many patients. Because you can take Invisalign trays out before you brush and floss, your risk of tooth decay and gum disease is lower.
You will need to visit your dentist for routine checkups throughout any orthodontic treatment. Invisalign requires you to come in only every six weeks, while you may need to schedule an appointment as often as every month with conventional braces.
Treatment Times
The treatment times for Invisalign and traditional braces are often similar. The average Invisalign treatment is completed in about a year to 18 months, which is similar to that of conventional braces. The most complex cases usually require traditional braces and may take up to two years or more to complete.
Cost
Because Invisalign uses special materials and the aligners are crafted in a separate lab, it costs more than conventional braces. You can avoid additional expense with Invisalign by complying with the treatment and taking care of your aligners to avoid costly replacements. Because teens often have a harder time following these directions, conventional braces may be the best option for younger patients.
Results
Invisalign and conventional braces work using the same basic orthodontic principles: gradual movement through focused pressure. That means they both produce fabulous results! After your treatment with Invisalign or conventional braces is complete, you will need to wear a retainer to ensure your teeth remain in the proper position. The Invisalign retainer is clear and just as discreet as the aligners used in treatment.
And to help a smile really sparkle, many patients choose to undergo professional teeth whitening after orthodontic treatment. Your dentist can talk to you about that once you're finished with braces!
Which Is Right for You?
In general, Invisalign in Prince Albert is a great option for adults and responsible older teens. Conventional braces are excellent for people who just want to stick to the tried and true, most affordable method.
Now that you know a little bit about the differences between conventional braces and Invisalign, it's time to get in touch with your dentist to discuss your particular case. Because you deserve a confident, beautiful smile!
About the Authors
Dr. Jerry Janzen and Dr. Jenna Gogolinski are general dentists providing comprehensive care for Prince Albert and the surrounding areas. To learn more about their services, including your options in orthodontics, you are invited to contact the "dentist near me" you're searching for at 306-763-7841.