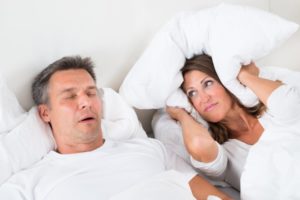 Are you or a spouse-partner suffering from obstructed breathing while sleeping? If so, this is a serious problem that can't be overlooked. Your local dentist says there's a chance that you may need sleep apnea treatment of Prince Albert. Learn more about how this option can help you breathe better and get a more restful and safer night's sleep.
What is Sleep Apnea?
Sleep apnea is a sleeping disorder where your regular breathing is obstructed during sleep. A common trait among this group is snoring, but not all snorers suffer from sleep apnea.
If untreated, this condition could mushroom into more serious problems like daytime drowsiness, difficulty concentrating and moodiness. In severe cases, sleep apnea can also lead to high blood pressure, heart trouble and premature death.
A Possible Cause for Sleep Apnea
Recent studies also show that oversized tonsils and tongue indentations (ripples that appear on the lateral edges of the tongue) play a significant role in obstructing breathing. The result is that the soft tissue at the back of the throat collapses while you sleep.
A Remedy
One way to combat sleep apnea that is associated with large tongue and tonsils is to use a custom-made appliance. They hold the jaw forward just enough to keep the airway open, and prevent the tongue and muscles in the upper airway from collapsing and blocking airflow.
Advantages of Oral Appliances
There are several advantages of wearing oral appliances:
Comfort – Small appliances are far more comfortable than wearing bulky alternatives like the CPAP machine, a mask that is worn at night with a tube running to it supplying oxygen.
Easy to Wear – Your oral appliance is easy to insert into your mouth and doesn't require any major planning to wear.
Quiet – Because it isn't motorized, your appliance is completely quiet.
Portable – Another convenience is that your appliance is portable, allowing you to easily pack it for trips.
If you're suffering from sleep apnea, you're not alone. Data show that 18 million adults have the same problem, but many go undiagnosed. But you now can ensure a better night's sleep for you and your spouse-partner, as you're now safer and quieter with your new oral appliance. Reach out to your dentist in Prince Albert to learn more about how he can help you drift off into blissful slumber for years to come.
About the Author
Dr. Jerry Janzen completed his studies at the University of Saskatchwan, earning his Doctor of Dental Medicine degree in 1985. He practices at Jerry Janzen DMD and can be reached for more information through his website.