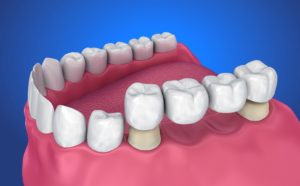 If you have lost one or more teeth in a row, a dental bridge in Prince Albert is an affordable and convenient solution to fill the empty space. With the right care, it can last for as long as 15 years before needing to be replaced; however, if you do not care for it properly, it may only last for a few years. To protect your investment, it is best to commit to your oral health to promote its longevity.

What is a Dental Bridge?
A dental bridge essentially bridges the gap between your remaining natural teeth. Custom-made prosthetic teeth are created to meet your exact size, shape, and colors needs to provide a natural look while also ensuring optimal oral functions. They are attached to a metal framework, which will connect to your remaining natural teeth. To anchor it in place, dental crowns will be bonded to the adjacent teeth.
How Do I Care for My Dental Bridge?
With a dental bridge, your dentist in Prince Albert can provide you with a long-term solution to treat your tooth loss—if you care for it properly. If you do not maintain your oral hygiene, food particles and bacteria can become trapped underneath it, irritating the gums. It may even result in an infection.
In addition, bacteria can become trapped where the crowns meet your gum line. Eventually, it can seep under the crown, causing the capped teeth to become decayed or infected.
To protect your smile, it is important to brush your remaining natural teeth twice a day using a soft-bristled toothbrush and fluoride toothpaste. Do not forget to floss in between each tooth every night before going to bed.
It is also vital that you take the time to clean all areas near and under the bridge where bacteria can flourish. To clean under it, insert a strand of dental floss and pull it through to remove bacteria and trapped food particles. Some find it easier to use a water flosser.
In addition to your care at home, you will also need to see your dentist regularly for a cleaning and checkup. They will remove any accumulations that have been left behind at home while also checking the health of your teeth and gums. They will also ensure that your bridge and crowns are undamaged and functioning as intended. If an issue does arise, it will be detected quickly for quick intervention.
Complete Your Smile Today
You do not have to live with the challenges of tooth loss. You can regain a complete smile with a dental bridge and crowns.
About Dr. Jerry Janzen
Dr. Jerry Janzen earned his dental degree in 1985. To provide his patients with the highest level of care, he regularly continues his education. In addition to preventive dentistry, he also offers restorative services, including tooth replacement options. If you are ready to treat your tooth loss, he will create the solution you need for a complete smile. Contact our office today to schedule your consultation.