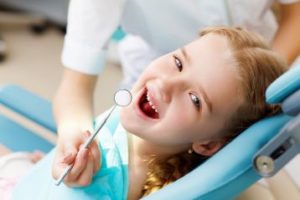 Did you know that tooth decay is the most common untreated childhood disease? According to the Center for Disease Control in the U.S., an estimated 1 out of every 5 children aged 2-11 has at least one cavity. But, the good news? Cavities are 100% preventable! In honor of February being Children's Dental Health Month, you'll get 5 tips in this blog to keep your child cavity-free. You'll also learn about the importance of regular checkups with a children's dentist in Alberta and how to make oral hygiene easier at home!
1. Brush and Floss Together
Getting kids to brush and floss can be a struggle in many households. One way of making it easier is to head into the bathroom with them. This way, you can brush and floss your own teeth while they're brushing theirs.
In addition to taking great care of your own smile, this is an opportunity to model good dental practices like flossing, which is a powerful way to encourage a lifetime of good habits for them.
2. Use Apps and Games
There are many apps and games on your phone or tablet that encourage brushing twice a day and educate children about healthy teeth and gums. They're a great way to engage your child and get them interested in their dental health.
You might also try playing a song for 2 minutes while they brush, which is the recommended time, to make it more fun and ensure they're doing a thorough job.
3. Use a Reward System
Small rewards can go a long way. One simple but effective system is putting a sticker on the calendar for each day that they brush and floss. If there are 7 stickers at the end of the week, you can give them a small prize that encourages them to keep up the good work.
4. Let Them Pick Out New Oral Hygiene Supplies
When it's time for a new toothbrush (about every 3-4 months) or you've run out of other supplies, let your child pick out a new toothbrush, floss, and toothpaste.
Just like getting a child's input about dinner can make it more likely that they'll eat well, letting them pick out oral hygiene supplies can make them more interested in using them.
5. Schedule a Checkup
Along with good oral hygiene at home, scheduling a checkup for your child every 6 months lays the foundation for a healthy smile. These visits are important so that any problems can be found early when they're small and easy to fix.
They're also absolutely crucial for prevention. For example, professional fluoride treatments strengthen the enamel to prevent tooth decay. And sealants (thin, durable coatings on the back permanent teeth) have been shown to prevent 80% of childhood cavities.
With these 5 tips, you can make sure your child has a healthy smile now and in the future. And that's something to smile about!
About the Author
Dr. Jenna Gogolinski is a general and children's dentist in Alberta who is dedicated to providing high-quality dental care to patients of all ages. She wants to help every child establish great oral health at an early age so they can have a healthy smile for life. If you have any other questions about your child's dental health, she can be reached via her website.