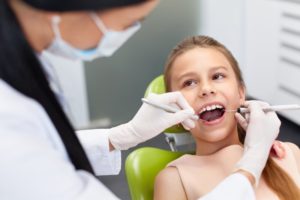 Do you know when your child should see a children's dentist in Prince Albert? You may think they should abide by the typical schedule you do, but that may not always be the case. There are certain milestones that are clear indicators as to when it's time for them to visit the dentist chair. If you need some guidance as to when your child should be receiving proper dental care, read on to find out more.
The First Tooth
According to the American Academy of Pediatric Dentistry, your child should see a dentist by the time their first tooth erupts or by their first birthday. Not only will this help to establish a good relationship between your child and his or her dentist, but it also:
Helps to ensure their baby teeth are properly taken care of. Even though they fall out down the road, it's important these teeth are kept healthy and clean, so their permanent teeth have no problems coming in when it's time.
Kickstarts early prevention. By starting at an early age, it is easier to prevent cavities and other oral health issues.
Educates parents. If this is your first child, and you're unsure of what steps you should be taking at home, this initial visit can be beneficial. It will allow you to ask questions and get recommendations from the dentist about oral habits and appropriate tools your child should be using.
When Cavities Are Most Likely
By the time your child is between the ages of 4 and 6, it is necessary they see a children's dentist because of the need for cavity prevention. Yes, starting them early (after their first tooth) is important, but at this age, cavities can develop quickly. Your child's dentist may suggest dental fluoride treatment and sealants on their permanent back teeth. It may also be beneficial for your child's dentist to take x-rays to look for any signs of cavities.
Emergency Situations
While you may watch your children like a hawk, you can't always prevent accidents and emergencies. When one occurs, make sure you have your child's dentist on speed dial. It may not be necessary for them to see your child immediately, but you can schedule an appointment, and the dental team can provide over-the-phone advice and tips on how to handle the situation while at home.
Regular Six-Month Checkups
As your child grows, they will need to see their dentist every six months for regular cleanings. Not only will they receive preventative care, but their dentist will also provide any recommended treatments should they be necessary. Also, when your child reaches 7 or 8 years old, it is recommended they see an orthodontist to determine if their jaw and bite are developing correctly.
Your child's teeth and overall oral health are just as important as yours. It's important to make time for your child to see a children's dentist when they reach these specific milestones, as it will help to keep their oral health on track.
About the Author
Dr. Jerry Janzen earned his dental degree from the University of Saskatchewan in 1985. He also earned a certificate of Biblical Studies from the Columbia Bible Institute in British Columbia. Offering comprehensive care, Dr. Janzen and his team put patients first, no matter their age. No matter if your child is ready to see a dentist for the first time or you need a cosmetic treatment, we're here to help! To learn more about us, visit our website or call 1 (306) 763-7841.