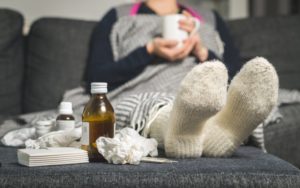 Are you constantly tired even though you get your recommended eight hours of sleep each night? Do you constantly feel you have some kind of cold? Your immune system can be directly impacted by your sleep apnea in Prince Albert. To keep your body healthy and happy, it's best to learn how your quality of rest can impact the way it functions. Even though you maintain a nutritious diet and exercise daily, you still find yourself falling ill all the time. It's beginning to impact your day-to-day life, and it's keeping you from doing what you love. Read on to learn how your disorder can be putting your immune system in danger.
How is Sleep Connected to Your Immune System?
A key player that helps boost your immune system and protect you from inflammation and infection is a special type of protein called Cytokines. The thing is, your body only produces and releases them while you're sleeping. The more sleep you get, the stronger your immune system is at fighting off illnesses. In short, sleep plays a vital role in preventing sickness.
If you're experiencing a long-term lack of sleep, it also increases your chances of becoming obese and developing diabetes and heart disease. The optimal amount of rest for adults is between seven and eight hours each night to fight off infectious diseases and illness. Keep in mind though, more isn't necessarily always better. If you sleep too much, it could cause the quality to plummet.
How is Your Sleep Apnea Threatening Your Wellbeing?
Your body repairs itself while you're sleeping by producing cytokines and antibodies, but only when you're in a deep sleep. If you're suffering from sleep apnea, you rarely ever get deep rest because your sleep cycle is constantly being disrupted because of your obstructed airway. These interruptions keep your immune system from getting the time it needs to fight off illness as it should.
Most cases of sleep apnea go undiagnosed because people rarely realize it's a problem. Also, most of their symptoms occur in the middle of the night while they're sleeping. If you feel constantly tired, wake up with a headache or sore throat, or occasionally wake up gasping for air, you should visit your medical professional to see if you have sleep apnea.
Can Treating Your Disorder Help Boost Your Health?
Once you've been diagnosed with sleep apnea, you can start seeking treatment to improve your quality of rest and health. Patients typically prefer oral appliances, which will adjust your jaw and open up your airway. Be sure to visit your dentist for a consultation so they can develop an individualized treatment plan to help fortify your immune system!
About the Author
Dr. Jerry Janzen is passionate about improving his patients' overall wellbeing and confidence with the highest quality of dental care. He believes that learning never stops, which is why he regularly continues his education so he can stay up to date with the latest advancements in his field. With decades of experience and knowledge under his belt, he's able to provide patients that are suffering from sleep apnea with the treatment that's best for them. For questions or to schedule a consultation for sleep apnea therapy, visit his website or contact 306-763-7841.