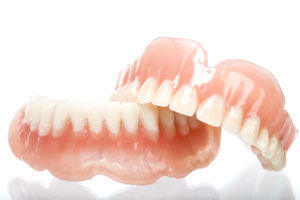 Are you missing most or all of your teeth? You are not alone. According to federal figures, more than one million Canadians have no natural teeth.
Fortunately, modern dentistry offers several solutions to fully restore patients' smiles, including dentures.
A popular and effective tooth replacement solution, here is what you can expect when getting dentures.
What are Dentures?
Dentures are a removable set of artificial teeth and gums that can restore multiple missing teeth or even an entire missing row.
Typically fashioned from durable acrylic resin, dentures are custom-made to fit perfectly in a patient's mouth, where they remain in place through natural suction or with the assistance of over-the-counter dental adhesive.
A popular and affordable tooth replacement solution, millions of Americans each year turn to dentures to help them regain their ability to eat, speak and laugh normally.
What is the Process for Getting Dentures?
The process for obtaining full dentures after teeth are pulled is completed in several steps:
Step 1: Your dentist will examine your gums and the bone structure of your mouth. They may choose to remove any remaining failing teeth. An impression of your mouth will then be made.
Step 2: Wax rims are placed in the mouth to establish a proper bite and orientation for your dentures. You will select the size, shape and shade of your new set of teeth. This information, along with the impressions of your gums, will be sent to the dental laboratory where your custom dentures will be created.
Step 3: A test model of your dentures will be sent to your dentist so you can approve the general look, feel and fit. Once approved, the dental laboratory will craft the permanent set.
Step 4: The standard waiting period for dentures is several weeks. Once your dentures have arrived, your dentist will make any small adjustments necessary to ensure they fit in your mouth properly.
What are the Benefits of Dentures?
Dentures offer their users a wide range of immediate benefits, such as:
Healthy diet – You can enjoy a balanced diet with many different types of food when wearing dentures.
Improved facial features – Dentures provide support for your cheeks, which can sag when teeth are missing.
Easily removable – You can simply take out your dentures to clean them whenever it is convenient for you.
Improved confidence – A beautiful new smile is sure to boost your self-confidence!
Am I a Good Candidate?
Most men and women who are missing most or all of their teeth are good candidates for full dentures. Whether your teeth were lost to gum disease, tooth decay or injury, dentures can restore your smile and your dental function.
Don't waste any more precious time living without a full smile! Talk to a dentist today about whether dentures are the best tooth replacement solution for you.
About the Author
Dr. Jerry Janzen has over 30 years of experience helping patients restore their smiles with dental prosthetics. The Prince Albert native offers dental implants, dental bridges and dentures at this conveniently-located private practice. Patients ready to reclaim a confident smile can visit Dr. Janzen's website or call 306-763-7841 to get started.