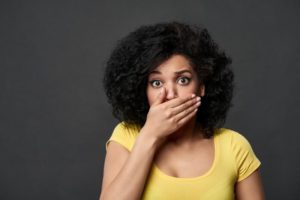 Dental crowns are a versatile way to fix a variety of dental issues, including everything from strengthening a weakened tooth, holding together broken enamel, and covering up unsightly cosmetic flaws. These durable, tooth-shaped caps are designed to stay firmly in place for up to 15 years, but that doesn't always happen. Bad oral health habits and everyday accidents can suddenly damage your dental crown and expose the vulnerable tooth underneath. Here's a step-by-step guide from your Prince Albert dentist to keep your smile safe if your dental crown breaks or falls off.
Step One: Protect & Inspect Your Smile
Examine your mouth, teeth, and dental crown as soon as you can. Don't keep a fallen-off dental crown or any broken pieces in your mouth to avoid accidentally swallowing or biting down on them. If the crown is very loose, you may want to preemptively remove it to keep yourself safe.
Next, look for any sharp edges. If your tooth is completely revealed because the dental crown has come off, check to see if it has been cracked or chipped. You can carefully run your tongue over it to feel for rough patches and test for tooth sensitivity. This is all important information your dentist will need to know.
Step Two: Call Your Dentist
Thankfully, a broken or missing crown is not typically a dental emergency. However, you need to call your dentist and see them right away to protect the exposed tooth from damage and decay. Explain your situation to your dentist with as much detail as you can over the phone. This will help them determine if your tooth can be treated in a few days or if it needs urgent dental care. They'll also be able to give you personalized first aid guidance for your specific circumstances.
Step Three: Managing Discomfort & Preventing Damage
Rinsing your mouth out with a glass of warm water with a teaspoon of salt dissolved into it is a great way to keep bacteria away from the broken or missing dental crown. Until you can reach your dentist's office, you can manage any discomfort and prevent further damage by:
Concealing jagged edges: If your broken crown has left sharp edges that can damage your cheeks, gums, or tongue, cover them with dental wax or a piece of sugarless gum.
Chewing carefully: Even if you're not in pain, be careful to avoid chewing on the side of your mouth with the broken or missing crown to prevent damaging the tooth.
Mitigating tooth sensitivity: You can manage tooth sensitivity by covering the exposed tooth as listed above, applying a cotton swab with a few dabs of clove oil onto the tooth, or taking an over-the-counter pain reliever as directed.
It's not likely to happen, but it's important to know what to do if your dental crown falls off or breaks suddenly. As long as you act quickly and correctly, you should be able to get back to enjoying your happy, healthy smile in no time!
About the Practice
Dr. Jerry Janzen and Dr. Markus Wilson are dedicated to helping the smiles of Prince Albert, SK stay happy, healthy, and strong for years to come. Together, they use their years of experience and training to provide truly personalized dental care and improved oral health. If you have a broken or missing dental crown, please don't hesitate to contact them via their website or at +1(306)763-7841.