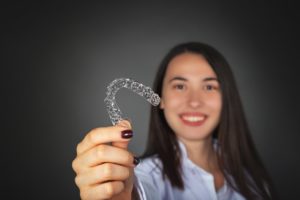 If you're embarrassed by bite and alignment issues, you're not alone. Crooked, gapped, or overlapping teeth are a concern for many adults. Despite what you may have heard, you're never too old to start your journey to a straight smile. Nowadays, you have more options than ever to align your teeth, like Invisalign in Prince Albert. If you're ready to take your first step toward a healthy, beautiful smile, you'll need to understand your options.
Orthodontic Options
If you're ready to achieve straighter teeth, you'll need to schedule a consultation with your dentist. After evaluating your alignment concerns and discussing your desires, they will recommend one of two options:
Metal Braces
A series of brackets and wires are attached to your teeth to gradually pull them into position using frequent adjustments. Although they are often only thought to be for children and adolescents, adults can benefit from traditional braces as well. Nowadays, there are several options to make them less noticeable, like tooth-colored wires and brackets.
Braces are effective in correcting even the most complex bite and alignment concerns over a period of about 2-3 years. During this time, you'll have some dietary restrictions to ensure your braces aren't damaged. You'll also need to commit to your oral hygiene and regular appointments for adjustments. Traditional braces are a convenient and affordable solution to achieve the straight smile you deserve.
Invisalign
As an alternative to traditional orthodontics in Prince Albert, many patients are turning to Invisalign. A series of custom-made aligners are worn over your teeth for at least 22 hours per day. Each aligner applies continual pressure to slowly move your teeth into position. You'll change to a new aligner each week. On average, it takes 12-18 months to finish your series.
Many adults prefer Invisalign because it's virtually undetectable and the aligners are removable. This eliminates any dietary restrictions and makes oral hygiene a breeze; however, you'll need strong self-discipline to commit to wear the aligners for the correct amount of time each day. You'll benefit from a nearly invisible solution to achieve a healthy smile without the restrictions of brackets and wires.
Achieving a Straight Smile
After finishing your treatment, you'll need to wear a retainer to prevent your teeth from moving back into their previous positions. There are several types available to find the perfect one to meet your needs. In addition, it's best to commit to your oral hygiene at home and visit your dentist at least twice a year for a cleaning and checkup.
If you're ready to invest in a straight smile, take your first step toward improved confidence by scheduling your consultation with a trusted dentist.
About Dr. Jerry Janzen
Dr. Jerry Janzen has practiced dentistry for over 30 years. He regularly continues his training to provide the latest innovations, like orthodontics. He has completed advanced studies in functional orthodontics and myofunctional orthodontics to create beautiful smiles. If you're interested in orthodontics, contact our office today to schedule your consultation.