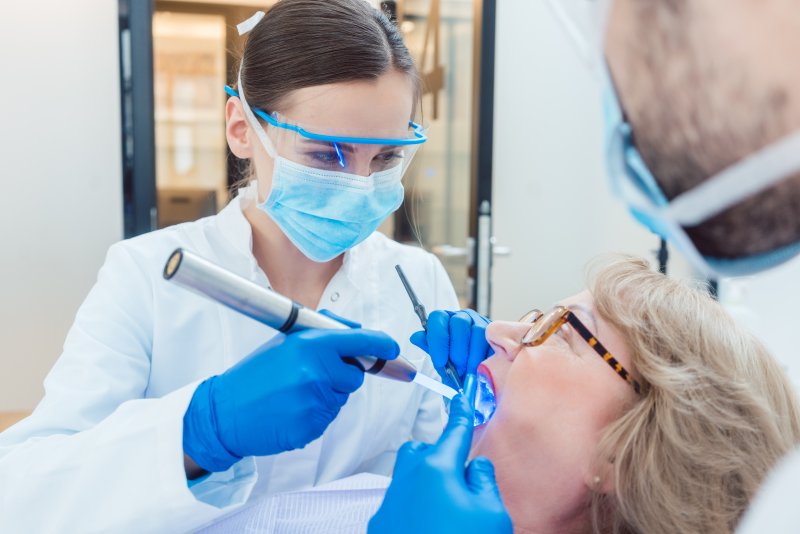 Our world was forever changed when the novel COVID-19 virus spread into a global pandemic. Over seven months later, it is as important as ever that we each do our part to stay safe and healthy, especially as the temperature continues to drop. With this in mind, many patients are hesitant to schedule their routine checkup and cleaning. However, neglecting to attend can have serious consequences on your oral and overall health. That's why dental teams are implementing additional protocols to practice safety at the dental office. Read on to learn what they are!
#1. Extensive Sanitation Measures
For decades, dentists have followed rigorous sanitation measures to prevent serious consequences, like cross-contamination and infection. And while those practices continue to play a crucial role in keeping patients safe, dental teams are incorporating additional measures into their daily routine amid the current pandemic, such as:
Implementing personal hygiene standards, like no jewelry or watches while in the office
Asking patients to rinse with an anti-microbial mouthwash before their appointment
Placing hospital-grade hand sanitizing stations throughout the practice
Cleaning after every appointment
Deep cleaning each evening
CDC-approved instrument sterilization
#2. Social Distancing Guidelines
Although much has changed since the start of the pandemic, the importance of maintaining a six-foot distance between yourself and others certainly has not. But how can you practice social distancing at your checkup and cleaning? While you and your dentist will inevitably come within close quarters, there are a few ways dental offices are helping you keep your distance, like using contactless greetings, implementing virtual waiting rooms, and installing clear barriers.
#3. Additional Personal Protective Equipment
Although wearing a face mask daily may be a new habit for you, your dentist is extremely familiar with personal protective equipment. However, since their exposure to saliva and blood puts them at risk, don't be surprised to see them in face shields, disposable coats, and even shoe coverings!
#4. New Appointment Setting Options
Pre-COVID-19, waiting rooms were often jam-packed due to back to back appointments. Since this is by no stretch of the imagination social distancing-friendly, dentists are offering patients new appointment setting options. Not only will this limit your contact with other patients, but it will also reduce the number of times you need to leave your home, which helps keep everyone safe. Here are four additions:
Sequenced patient scheduling, which allows more time for coming, going, and cleaning
Expanded patient appointments, which means more dentistry in a single visit
Family-friendly scheduling, so you can bring your whole family in at one time
At-risk patient hours, for mature or medically concerned patients
As the world continues to battle COVID-19, it's more important than ever to be diligent about keeping ourselves and our loved ones safe. Fortunately, you can do just that while simultaneously caring for your smile thanks to the above safety and sanitation measures!
About the Author
Dr. Jerry Janzen earned his dental degree from the University of Saskatchewan, and he has spent the last three full decades helping his community safely get the quality dental care they deserve. Whether you are overdue for your routine cleaning, have a toothache that needs attention, or are concerned about gum disease, you can have peace of mind knowing he and his team are going above and beyond to ensure your safety at your appointment. To learn more about their safety measures during COVID-19, visit his website or give him a call at 306-763-7841.