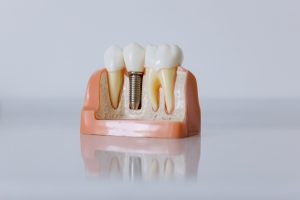 Thanks to new innovations in dentistry, there are more options than ever to treat tooth loss; however, over 500,000 people annually are choosing dental implants, and for good reason. As the only treatment to recreate both the root and crown, a dental implant is a nearly perfect replica of a real tooth. Not to mention, they have over a 95% success rate and are proven to last for decades with the proper care. Most patients who have good oral and general health can benefit from the procedure, but 3 common issues can prevent you from getting dental implants. Don't worry, your dentist can fix the problems, so you can enjoy a complete smile again.
1. Bone Loss
A titanium post is surgically inserted into the jawbone to serve as a new root. Your bone will fuse to it through a process called osseointegration, allowing it to stabilize your restoration. Unfortunately, bone loss and missing teeth often go hand in hand. 25% of your jaw's density can diminish within the first year of losing a tooth, which can cause your dental implants to fail.
Bone Grafting
Your dentist will review a CT scan of your jaw during your consultation to ensure there is enough bone to support dental implants. If not, they'll recommend bone grafting before your placement surgery to strengthen your jaw. Although it adds another step to your treatment, sufficient bone is vital to the success of the procedure.
2. Infection
Gum disease is the leading cause of tooth loss, despite being preventable. If you've lost teeth from it, you will not be a candidate for dental implants if the infection is still present. Gum disease destroys the supporting structures of your teeth, which will ultimately affect your dental implants.
Periodontal Therapy
Your dentist will carefully examine your gums to look for any signs of an infection. If there's any redness, swelling, bleeding, or other symptoms of gum disease, you'll need periodontal therapy. Once your gum health has been restored, you can move forward with dental implants.
3. Poor Oral Hygiene
Dental implants are the most reliable option to replace missing teeth. Although dental implant failure is rare, it's often caused by an infection called peri-implantitis, which is like gum disease. It can be avoided through a commitment to oral hygiene.
Oral Hygiene
If you don't have the best home dental habits or maintain regular cleanings and checkups, your dentist may want to see improved oral hygiene practices before agreeing to your procedure. With a few simple changes to your brushing and flossing habits, you'll be on track to achieving a beautiful smile.
Don't let minor complications stand in your way of getting dental implants. Your dentist has the personalized solutions you need to revamp your smile.
About Dr. Jerry Janzen
Dr. Janzen has over 30 years of experience in dentistry. Besides earning his dental degree, he has completed training for dental implants through Nobel BioCare and Straumann. He is a member of various professional organizations due to his career excellence, including the International Team for Implantology. If you're interested in dental implants, contact our office to schedule your consultation with a reputable implant dentist.