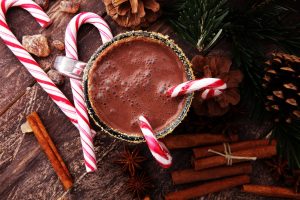 As Andy Williams likes to sing, it's the most wonderful time of the year! The temperature may be dropping outside but festive lights and parties are keeping spirits high. One thing to keep in mind this holiday season is your oral health. Between the desserts at the office holiday party and the candy canes hanging on your tree at home, sugary treats can wreak havoc on your teeth. Here are some tips to help you enjoy the next few months without damaging your smile.
#1: Be Cautious of Candy Canes
Candy canes and peppermints seem to be everywhere during the holidays: hanging on trees, placed in candy bowls, and stuffed into stockings. However, these hard, sticky candies can linger on teeth, which gives bacteria more time to feast and produce harmful acids. Hard candy can also crack your teeth if you bite down wrong. If you have a craving for something sweet, choose a small piece of chocolate instead. Chocolate melts away quickly compared to candy canes, which is better for your oral health.
#2: Skip Sugary Drinks
Holiday parties are usually filled with sugary drinks like soda, eggnog, and hot chocolate. However, these sweet beverages can increase your risk of tooth decay. Try to drink as much water as possible instead. Not only will water keep you hydrated, but it will also wash away bacteria and bits of holiday food. If you really want something bubbly, try sugar-free fizzy water instead of soda.
#3: Eat Smile-Friendly Foods
The dessert tables always seem larger than the actual food tables at holiday parties, don't they? If you want to protect your oral health during the festive period, skip the trays of cookies and fill your plate with veggies instead. Munching on fibrous vegetables like celery and carrots helps stimulate the gums and increase saliva production. Another holiday food that's great for your teeth is turkey. This lean meat is an excellent source of phosphorus and protein, both of which can help keep your teeth strong and healthy.
#4: Don't Use Your Teeth as a Tool
Leave cracking nuts to the nutcrackers! Seriously, do not crack nuts with your teeth. The hard surface of most nutshells can cause major tooth damage. In addition, avoid the temptation of using your teeth to open holiday packaging. Grab the scissors instead.
#5: Travel with a Toothbrush
Many people travel home to spend the holidays around their parents, grandparents, and extended families. If you are hitting the road this year, don't forget to bring along your toothbrush and floss. Even if you're making a quick overnight trip, you don't want to give bacteria a chance to attack your teeth. If you're worried you will forget to pack your toothbrush, consider buying a small dental travel kit and keeping it in your suitcase.
Preventing cavities during the holiday season is possible with a little planning. Follow the five tips above to stay healthy and enjoy this year's festivities!
About the Author
Dr. Jerry Janzen has over 30 years of experience helping patients achieve and maintain healthy smiles. The Prince Albert native truly believes that good oral health is essential to overall health and offers a full range of preventive services at his private practice. For more tips on how to protect your oral health this holiday season, visit the Legacy Dental website or call 306-763-7841.