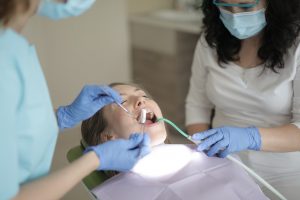 If your child needs a dental procedure, their pediatric dentist may recommend sedation to ensure a pain-free appointment. However, you've watched stories on the news about children experiencing complications after sedation. It's normal to wonder, is sedation dentistry safe for children? Despite what you might have seen on TV, dental sedation is safe for young patients who meet specific guidelines. 
Guidelines for Pediatric Sedation Dentistry
In 2019, the American Academy of Pediatric Dentistry and the American Academy of Pediatrics updated the guidelines for the use of sedation in children. Dentists and oral surgeons are required to have at least 2 people in the room who are trained in advanced life support in the rare event there's a complication. Either an oral surgeon or dentist must be present, as well as an independent observer. This must also be a physician anesthesiologist, registered nurse anesthetist, or another dentist or oral surgeon.
Sedation is only recommended for children with good health and minimal risks of complications. After ensuring sedation dentistry is safe for your child, their pediatric dentist will determine which medication will meet their needs.
Types of Sedation for Children
Multiple sedatives are safe for children. Based on their needs, like the complexity of the procedure, your children may be a candidate for:
Nitrous Oxide
Also known as "laughing gas," nitrous oxide is considered the safest sedative for patients of all ages. Nitrous oxide is mixed with oxygen to be delivered through a mask worn over the nose. As it is inhaled, it takes effect quickly, allowing your child to reach a deep level of relaxation. Don't worry, they won't be unconscious. The delivery method allows their dentist to better control the amount they receive. After their procedure is complete, the mixture is turned off, and the mask is removed. Within a matter of minutes, your child will be back to normal without any lingering side effects.
Oral Conscious Sedation
Oral conscious sedation is a prescribed medication taken before any dental work. It is stronger than nitrous oxide, making it suitable for children needing complex or multiple procedures. Although your child won't be rendered unconscious, they will likely drift off to sleep. As a result, they may not even remember their procedure, so they aren't fearful of future dental work. It can take a few hours for the effects of the sedative to dissipate.
Choose Pain-Free Dentistry
Sedation dentistry is safe for young patients when administered by a trained professional. Take the time to learn more about the dentist's qualifications to ensure your child is in safe hands.
About Dr. Markus Wilson
Dr. Wilson earned his dental degree at the University of Saskatchewan College of Dentistry before continuing his training at multiple prestigious facilities, including the Kois Center of Clinical Excellence. He provides advanced dental services for patients of all ages, including children. If your child needs dental work, choose a dentist you can trust. Contact our office today to request a consultation.