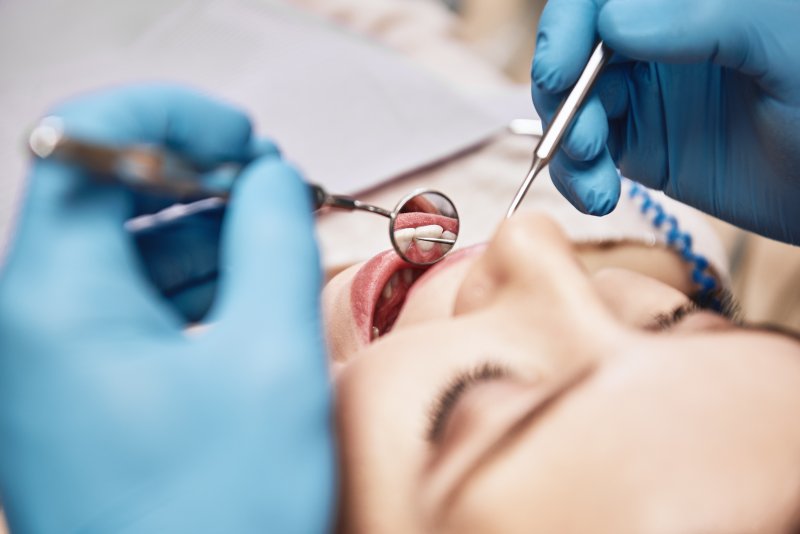 One of the best ways to preserve good oral health is to visit your dentist every six months for checkups and cleanings. However, you might be wondering what exactly they do during your biannual appointment. While they do look for signs of cavities, their job involves much more than that. Read on to learn about five things your dentist does when you visit and the importance of routine dental checkups for protecting your smile!
#1: Examines the Condition of Each Tooth
An essential part of your biannual checkup is to monitor the wellness of every tooth. Your dentist will likely use a small circular mirror to help them see every angle of your pearly whites. This allows them to check behind and around your smile for any signs of concern. They'll also use a dental "explorer" to test the integrity of your enamel, which can even help them find cavities.
#2: Checks Your Gum Tissue
Your dentist will examine your gums for signs of periodontal disease, which can be accompanied by inflammation and bleeding. They'll also check the spaces between them and your teeth, as large pockets can indicate unhealthy gum tissue. This may also involve checking for and removing plaque and tartar, which are typically precursors to infection.
#3: Evaluates Your Bite Pattern
Once they've checked each tooth and your gums, your dentist will assess your entire bite. This means they'll check how your smile appears when you close your lower and upper jaw. Doing so allows them to see if you have any bite misalignment issues, as these can affect your overall oral health as well as how you're able to care for them in the long run. If they find any concerns with how your jaw moves or your bite, then they might recommend orthodontic treatment to fix your smile.
#4: Monitors Your Tongue & Salivary Glands
Your dentist will also check the condition of your tongue. The color and texture can be good indicators that your mouth is healthy or that there are concerns that need to be addressed. They will inspect your salivary glands as well. This is because your spit is a natural deterrent for the bacteria in your mouth and is essential for preventing infections and decay. Your dentist will want to ensure a sufficient amount is being produced, otherwise, your pearly whites can be more susceptible to cavities and disease.
#5: Performs an Oral Cancer Screening
This is one of the most critical parts of your dental checkup. Your dentist will thoroughly check your lips, mouth, neck, and head for visible indications of oral cancer. By monitoring your mouth for early signs, they'll be able to address any issues before they can progress or become life-threatening.
Now that you know some of the essential things your dentist does during your dental checkup, you can feel more confident that your smile is being well taken care of. Talk to your dentist if you have any questions, and they'll be happy to help you maintain excellent oral health!
About the Author
Dr. Jerry Janzen studied at the University of Saskatchewan and continues to seek advanced training to refine his skills. He's also a member of several groups like the Canadian Dental Association and the International Association of Orthodontics. He offers a wide range of comprehensive services, including dental checkups/cleanings and periodontal therapy. If you'd like to schedule an appointment, visit his website or call +1 306-763-7841.