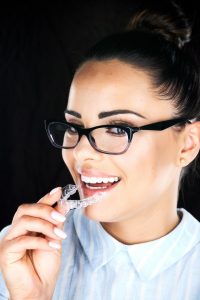 Some patients, particularly as they get older, don't want to commit to orthodontic treatment because they envision a hassle when it comes to wearing metal wires and brackets. Not only are traditional braces noticeable, but they can cause discomfort at times. Fortunately, Invisalign is an excellent alternative that allows people to discreetly and more comfortably get the smile they've always wanted. Although one of the most significant advantages is the clear aligners are virtually invisible, there's far more to it. Read on to learn from your dentist in Prince Albert about other incredible benefits of Invisalign.
Continue to Enjoy Eating with Removable Orthodontic Treatment
Unlike traditional metal braces, Invisalign uses a series of clear aligners to move teeth into straighter positions. Instead of using metal wires and brackets to straighten crooked teeth, the plastic trays apply constant gentle pressure. Each set of clear aligners is worn for a predetermined amount of time – usually two weeks – to guide your teeth to a certain degree.
Once you're done with a set, you advance to the next phase in the series. Although there are no dietary restrictions while undergoing treatment, you must remove the aligners before eating or drinking anything that's not water. Otherwise, you can damage them by causing cracks and stains.
Sidestep Metal Wires and Brackets
Since there are no brackets on the clear aligners, you don't need wires to straighten your teeth. With traditional metal braces, your dentist must routinely tighten the wire to help your teeth move into their ideal positions. However, because Invisalign clear aligners don't involve metal wires and brackets, fewer routine maintenance visits are needed throughout your treatment process. Additionally, you can enjoy greater overall comfort for your teeth and oral tissues.
Expect Care and Maintenance to Go Smoothly
On average, most orthodontic treatments take 18-24 months to complete. Throughout that time, it's incredibly important that you practice good oral hygiene to ensure a successful result. If you have traditional metal braces, you'll need to use special tools like an interdental cleaner thoroughly around your wires and brackets.
But if you're undergoing Invisalign treatment, you can simply remove the aligners to clean your teeth more efficiently. It makes it easier to remove food particles, debris, and harmful oral bacteria every day!
Upgrade Oral Health
Did you know that poor oral health is associated with several overall health issues? If you neglect to keep your mouth in good shape, you increase your risk of heart disease, diabetes, infections, pneumonia, and even depression. Fortunately, Invisalign allows you to keep your mouth and body in optimal condition. As your teeth become straighter and your oral health improves, the bacteria in your mouth will lessen, and you can lower your chances of developing dental problems.
As you can see, there are many benefits of Invisalign treatment. If you're ready to get started on your journey toward a straighter smile, make an appointment with your dentist in Prince Albert today. There's no reason to wait any longer for straighter teeth and improved oral health!
About the Author
Dr. Jerry Janzen has been working for this smile of his patients for more than three decades. The Prince Albert native earned his dental doctorate from the University of Saskatchewan and is a member of the Canadian Dental Association, as well as the International Association of Orthodontics. If you are interested in clear aligners, know that Dr. Janzen has studied functional orthodontics, particularly Invisalign, with the renowned Dr. Steve Buchanan. Schedule a consultation on his website or call (306) 763-7841.