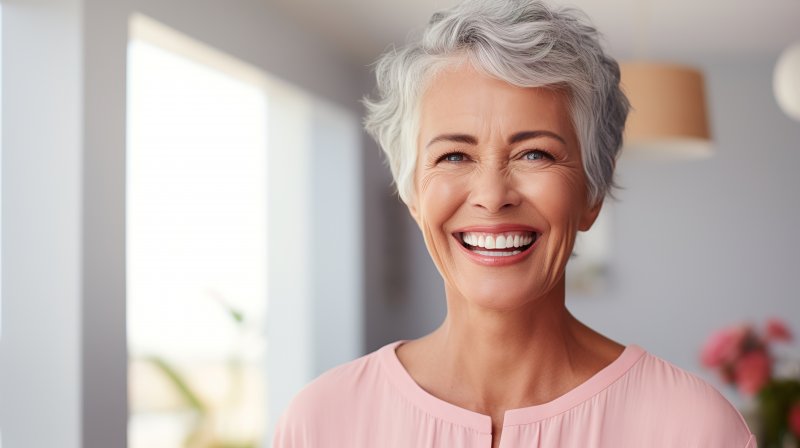 The key to a great first impression is a healthy, beautiful smile. However, as you age, you may start to feel more anxious about showing off your pearly whites. You should always be proud of your grin. If you're seeking the confidence you had in your younger years and are looking to turn back the clock on your smile, here are 4 ways cosmetic dentistry can help restore your youthful glow.
#1: Get a Complete Smile Makeover with Veneers!
If you're looking for a smile transformation to have you appear younger than ever, look no further than veneers. They can conceal multiple dental imperfections that might have you looking older, whether you have damaged, worn, cracked, or chipped teeth. Having a smile that looks as good as new can revitalize your appearance.
#2: Enjoy Seamless Fixes with Metal-Free Restorations
Metal restorations are mostly a thing of the past and, as a result, can make you look older. If you have damaged or decayed teeth and are in need of restorations, opting for metal-free ones can give you a refreshing look.
Choosing a non-metal material for your crowns or fillings can allow you to match it to your natural enamel, blending into your surrounding teeth seamlessly. No one will even know you've got dental work done, and you'll restore the appearance of your pearly whites.
#3: Conceal Minor Flaws with Cosmetic Bonding
One minor dental flaw doesn't need to have a dramatic procedure to get you looking your best. Cosmetic bonding only takes about an hour, but the results can last for more than a decade. Of course, these long-lasting results are just one perk. Repairing smaller imperfections, like minor stains, can make you look more youthful. In fact, several studies have shown that people with brighter, white smiles are viewed as younger than those with yellow ones.
#4: Brighten Up Your Smile with Professional Teeth Whitening
No matter how meticulous your oral hygiene routine is, your teeth can still grow discolored from age. Professional teeth whitening can bring back your youthful glow by brightening up your smile.
Although teeth whitening products can be found on store shelves, they're not always safe. If you want quality, long-lasting results that won't harm your smile, your dentist is the best choice. You'll be able to safely get your pearly whites 8-10 shades lighter in just one appointment.
Don't let age take away your confidence. Your smile deserves to be a source of joy, and your dentist can help!
About the Practice
At Legacy Dental, your smile is in the capable hands of 3 highly skilled and compassionate dentists. With their combined expertise, they are able to provide a comprehensive range of dental services. The practice offers veneers, metal-free restorations, cosmetic bonding, teeth whitening, and gum recontouring to help their patients achieve their smile goals. If you want to turn back the clock and boost your confidence, contact the Legacy Dental team through their website or by phone at +1(306)763-7841.