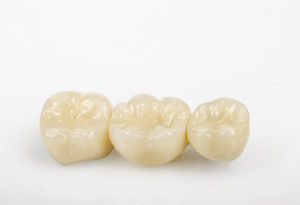 If you've lost any of your teeth, you have several options to choose from when deciding how to replace them, including a dental bridge in Prince Albert. Bridges are a wonderful way to replace 1 – 2 teeth because they're affordable, look great, and also restore your ability to chew your favorite foods! Of course, it goes without saying that any dental work is an investment that you want to last as long as possible. In this blog, you'll learn about who the ideal candidate for bridges is, as well as how long they last – and how to prevent them from failing!
Who Is a Good Candidate For a Bridge?
When deciding whether to recommend a bridge or not, a dentist will primarily be looking at the two teeth on either side of the missing space. They'll want to make sure these teeth are healthy and strong enough to act an anchor for the bridge, so they can support the chewing forces it will need to withstand.
Those two teeth need to meet the following criteria:
They need to have healthy gum tissue and underlying bone support around them. If a patient has gum disease and has low bone levels, they may do better with another replacement option.
In addition to having healthy gum support, these teeth also need to be healthy themselves. Large cavities, a history of root canals, or fractures can all make them too weak to support a bridge.
Remember, each patient is evaluated on a case-by-case basis. If your dental history includes either of these issues, that doesn't automatically mean a bridge won't work for you.
How Long Do Bridges Last?
You'll be glad to know that dental bridges can last around 10-15 years (or more) with basic care and maintenance. But just like regular teeth, they need good hygiene and regular dental visits with a 'dentist near me' to make sure they stay healthy and strong.
Why Do Bridges Fail?
One reason that bridges fail is that they trap plaque and food debris underneath that causes a cavity on one of the anchor teeth. Thankfully, this can be avoided with great hygiene habits.
In addition to thoroughly brushing at least twice a day, using special tools such as floss threaders, interdental brushes or water flossers is crucial for cleaning the area underneath a bridge.
Using extra topical fluoride each day is also important for cavity prevention. You can pick up a fluoride mouthwash at the store or ask your dentist for a prescription-strength toothpaste.
Finally, sometimes a bridge will fail because patients eat something that puts too much pressure on it. That's why it's a good idea to minimize or avoid the following foods (or eat them on the side that doesn't have the bridge):
Nuts
Caramel
Popcorn
Hard or chewy candies
Steak or other tough meats
Bridges are a fantastic option for many patients. With these tips, you can keep yours looking and feeling great for as long as possible!
About the Author
Dr. Jerry Janzen is a general, cosmetic and restorative dentist who always thoroughly evaluates each patient with missing teeth so he can recommend the best treatment for them. He also takes the time to make sure they know how to maintain their new dental work for as long as possible. If you have additional questions about dental bridges, he can be reached via his website or at (306) 763-7841.