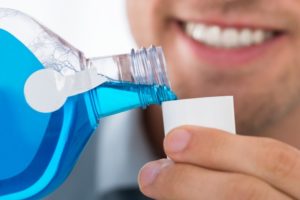 As your Prince Albert dentist reopens, keeping you safe from COVID-19 is their top priority. Numerous steps have been added to their normal infection control protocols to safeguard your health and prevent the spread of germs during your dental treatment. One of these new precautions is to rinse with an antimicrobial mouthwash before care is administered. Can a mouthwash help keep you and your dentist safe from the coronavirus? Here's what you need to know about this new step in dental patient safety during COVID-19.
What is an Antimicrobial Mouthwash?
Although they may look similar, antimicrobial mouthwashes are very different from any oral rinses you can buy at the store. Over-the-counter antiseptic mouthwashes are used to reduce the risk of infection by clearing away bacteria. According to the Centers for Disease Control and Prevention, an "antimicrobial" product is designed to kill or inactivate various kinds of dangerous particles, including fungi, bacteria, parasites, and viruses.
Does Swishing with Antimicrobial Mouthwash Burn?
Many people shy away from using mouthwash because of the unpleasant burning sensation it can cause. This feeling is the result of one of its ingredients—alcohol. Thankfully, the antimicrobial mouthwash your dentist offers is a product called OraCare, which uses activated chlorine dioxide to eliminate microbes without causing a burning feeling. If you're still feeling anxious about it, bring your concerns to your dentist.
Does Antimicrobial Mouthwash Kill COVID-19?
Antimicrobial mouthwashes were not designed to fight COVID-19. In fact, researchers are unsure of their impact on the coronavirus. However, its effectiveness against numerous harmful microbes in your mouth makes it a worthwhile precaution and second layer of protection. Typically, antimicrobial mouthwashes are used to treat serious oral infections and mild to severe cases of gum disease.
Should I Use Mouthwash Every Day to Prevent COVID-19?
Most antiseptic mouthwashes have been found to kill up to 99% of germs that cause bad breath, plaque, and the earliest stage of gum disease. They have not been tested against COVID-19 and are not recommended as a way to keep yourself safe from getting sick. Nevertheless, using mouthwash daily alongside regular brushing and flossing maintains excellent oral health, which plays a key role in strengthening your immune system and your ability to naturally fight off viruses.
Your Prince Albert dentist is implementing a range of infection control protocols in these unusual times. From instrument sanitation, to social distancing measures, to using antimicrobial mouthwash, you can rest assured they are doing everything they can to keep you as safe as possible in the office during COVID-19.
About the Practice
As the dental practice of Drs. Janzen, Gogolinski and Wilson begins to reopen, we are focused on providing a safe transition to non-emergency dental care in Saskatchewan. While your dental visits may look a little different than they used to, you can expect the same friendly and effective treatment you deserve. We have added 23 precautions to our normal infection control protocols to keep you safe and healthy while in our office, including the use of anti-microbial mouthwash. If you'd like to learn more about our Commitment to Safety, feel free to reach them via their website or at +1(306)763-7841.